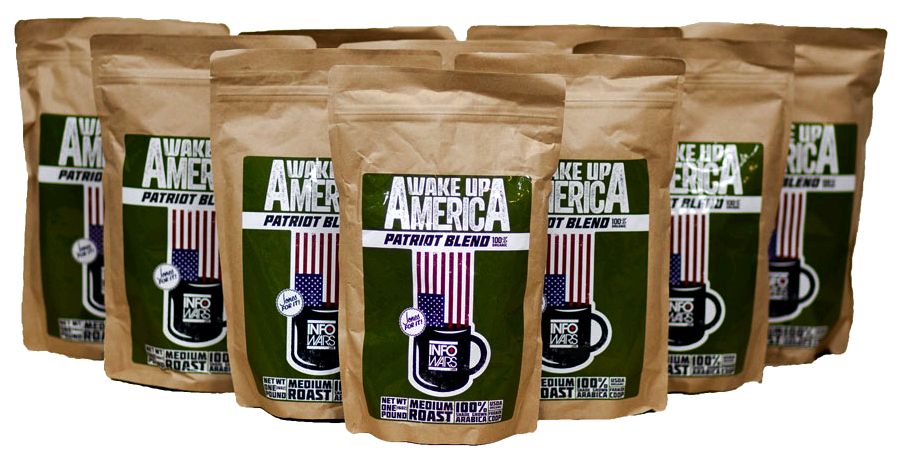 A message from Alex Jones:
"Hey folks, Alex Jones here and I want
to thank you for visiting InfowarsStore.com as well as thank you for all
of your support. We simply could not have launched any of our
operations without you.
For more than a decade, my favorite
coffee has come from the high mountains of Southern Mexico, where the
Chiapas farmers grow their unique coffee beans. We have now managed to
secure these unique beans in my favorite coffee the new Patriot Blend
100% organic coffee.
The key to why this blend is my favorite is
rooted in the way that it has a highly robust and enjoyable taste that
at the same time is not too acidic and goes down extremely smooth. And
perhaps even more important than the great taste is the fact that when
drinking the Patriot Blend coffee, I do not experience the headaches and
other negative effects that are usually associated with caffeinated
coffee blends.
This is my favorite coffee, and it has taken
years to secure a connection directly to the Chiapas farmers co-op that
actually financially aids these indigenous individuals. This coffee is
really going beyond Fair Trade in aiding these farmers, and at the same
time is 100% certified organic and tastes great. I encourage you to try a
cup of the new Patriot Blend 100% organic coffee, as you will be
supporting our operation while enjoying a truly great cup of my absolute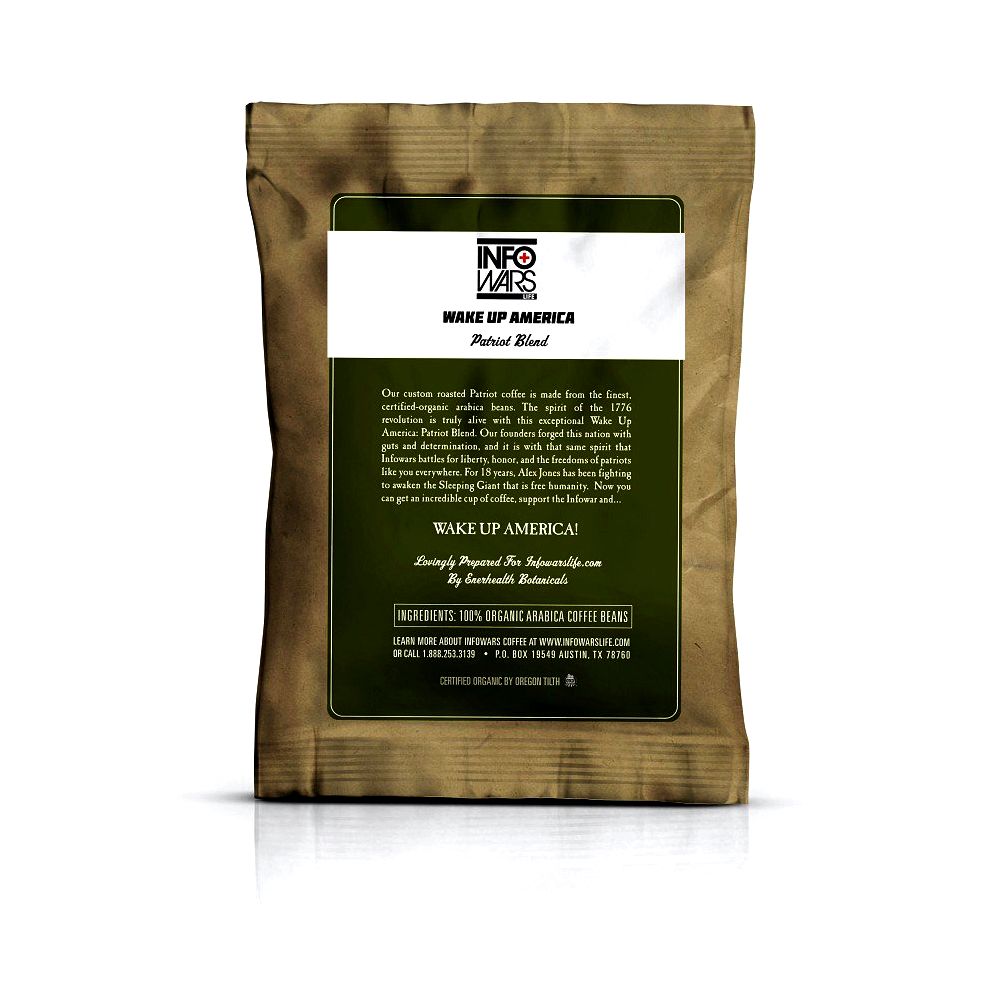 favorite coffee."
–Alex Jones
Wake Up America!
Our custom Patriot Blend whole bean coffee is Alex Jones' favorite cup of coffee. Start your day off right with our gourmet, 100% organic coffee and help us Wake Up America!
The Wake Up America!: Patriot Blend
is fair trade, 100% organic coffee that is shade-grown in Chiapas,
Mexico at the ideal altitude. The fair trade and shade-grown
classification indicates that the growers were fairly compensated for
their labor and that those local farmers raised the coffee in harmony with the existing forest canopy. It is 100% organic meaning that the plants were grown without pesticides or using commercial, inorganic fertilizers. This sustainable approach to the cultivation of the Wake Up America!
coffee is a very important issue. The use of traditional techniques such
as crop rotations and natural soil enrichment enables the local farmers
to maintain their native lands for future generations. It also ensures these coffee beans are non-GMO and free of toxic chemicals frequently used in commercial agricultural production. Ancient Mayan knowledge is paired with the natural fertility of the land to generate the world's finest coffee bean. This is the way coffee was meant to be grown and you can taste the difference.
The green coffee beans are carefully harvested by hand and then imported to the United States where they are custom-roasted and freshly packed by fellow patriots like you. Great care is taken to ensure that the natural richness and flavor is preserved during the roasting process. The result is a robust medium-roast coffee with great depth and flavor. It is a full-bodied roast with mild acidity that results in a smooth yet bold flavor. The whole beans are then packaged in a specially designed resealable one pound bag to ensure quality and freshness.
The spirit of the 1776 revolution is truly alive with this exceptional Wake Up America: Patriot Blend. Our founders forged this nation with guts and determination, and it is with that same spirit that Infowars battles for the liberty, honor and freedoms of patriots like you everywhere. For 18 years, Alex Jones has been fighting to awaken the Sleeping Giant that is free humanity. Now you can get an incredible cup of coffee, support the Infowars and Wake Up America!
Also available: Check out our Immune Support Blend that is infused with organic medicinal mushroom extracts.
Resourse: http://infowarsshop.com/
Alex Jones Attacked With Boiling Coffee On The Streets Of Seattle
Video COMMENTS:
Murrey1: That guy who poured the coffee looks like a basement dwelling down syndrome moron.
Nathan Buck: Murrey1 HE LOOKS LIKE A GAY FROG
Ken Fleming: The craziest part of this video is that Alex will do as they demand of him & continue trying to prove he isn't a "racist".  I have no idea why he wants them to win
Anon One: It's an assault, report it. Get his identity! They're doing this in UK with drain cleaner and acid, how'd you know it wasn't dangerous, in this day and age, you have the right to defend yourself as if it was possibly acid. \n\nFolk beware don't let anyone away with that! 
Jeff Moore: It's fake. thats my friends sibling. He told me that he saw an ad on criaglist offering $50 for a " easy gig". give me 10min i'll try to find the text he sent me.
Aphecs !: Nah, there's tons of attacks from white nationalists on innocent muslims.
Richard Herrman AB-: Seattle is full of these libtards. If Yellowstone blows it will take them all. It's a god forsaken sin how brainwashed they are.! And I do believe just like the old days.! That this solar eclipse is going to be a warning from God himself.! For people to open their eyes and repent. I pray for all the Lost Souls.! You can see the evil in them. Why wouldn't anybody be happy.! With the work the president has done and brought back jobs and companies no matter what he does it's wrong. That is totally backwards thinking.! It just makes no sense. What else can you say.! Satan is definitely ruling the people of this world.!
zxczxczxc7240: im not religious but u have to admit that the west has fallen quite far in the last several decades. we have abandoned god and now we reap what we sow.
United America: I've been to Yellowstone before. It's an Erie feeling. Beautiful though.
aiRCoft: I like Alex and Info Wars and all but I have to say I'm pretty sure that coffee attack was staged… There's no way Alex would have just taken it so calmly like that… This is bad….