Navigation article: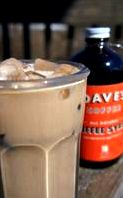 What You Will Need:
-Dave's Natural Coffee Syrup
-Cold Dairy
Directions: This is actually the classic Rhode Island Style Coffee Milk. As pure and fundamental as possible…
Fill a glass with cold dairy. Add three generous tablespoons Dave's Natural Coffee Syrup, stir and revel in.
Note: Although we advise dairy to find the best flavor, skim and milk substitutes can be utilized. Observe that using milk substitutes have a tendency to mask the real coffee goodness and can enhance more caramel flavor within the syrup.
DIRTY ESPRESSO MARTINI
What You Will Need:
-2 ounces Dave's Natural Coffee Syrup
-2 ounces vodka
-2 ounces strong coffee
Directions: Causeing this to be scrumptious cocktail is simply by mixing equal parts vodka, Dave's Coffee syrup, and powerful coffee, inside a cocktail shaker full of ice. Shake it for any solid minute to obtain a little foam going then pour it inside a martini glass rimmed together with your favorite instant cacao and you're done.
THE WIRED FRIAR
What You Will Need:
-Dave's Natural Coffee Syrup
-Cold Half & Half
-Frangelico liqueur
-Absolut Vodka
Directions: Fill a cocktail shaker with ice. Add one part Dave's Coffee Syrup, one part Frangelico, and something part Vodka. Shake well.
Fill a higher ball glass with ice. Pour mixture over ice. Give a a little half & half and stir.
TWISTED Traditional
What You Will Need:
-Dave's Natural Coffee Syrup
-whiskey(preferably rye)
-Angostura bitters
-club soda
-lemon
Directions: Inside a rocks glass, add 3-4 dashes of Angostura bitters along with a a little club soda. Swirl the glass so the bitters coat the walls. Add 2 oz of rye whiskey and 1.5 oz of Dave's Coffee Syrup and stir. Twist a lemon rind and drop it in to the glass, plus a large ice cube.
BRANDY DAVE'S (TWIST ON BRANDY ALEXANDER)
What You Will Need:
-Dave's Natural Coffee Syrup
-brandy
-creme de cacao
-cream
-chocolate (85%+ cacao)
Directions: Utilizing a shaker, add 2 oz brandy, 2 oz Dave's Coffee Syrup, 2 oz cream, 1 oz creme de cacao, along with a couple of cubes of ice. Shake contents, then strain right into a glass. Top the finished drink with grated chocolate.
FROZEN AFFOGATO
What You Will Need:
-Dave's Natural Coffee Syrup
-Premium Vanilla Frozen Treats
Directions: Inside a wide mouthed coffee cup, add one scoop of the favorite superior quality vanilla frozen treats. Round the outdoors from the scoop of frozen treats, pour about 1 / 3 of a mug of Dave's Natural Coffee Syrup.
Affogato means "drowned". So, the concept is to help make the frozen treats seem to be drowned inside a pool of scrumptious coffee syrup!
CARAMELIZED COFFEE SYRUP CARROTS
What You Will Need:
-Dave's Natural Coffee Syrup
-One package organic carrots
-Essential Olive Oil
-Chives
-Salt & Pepper
Directions: Peel carrots and reduce roughly three inch lengths. Cut carrot lengths into quarters. Chop chives finely.
Heat essential olive oil over medium high temperature. Add carrots. Saute until carrots start to brown and obtain soft. Pour about 1/3 cup Dave's Coffee Syrup over carrots and continue cooking until syrup caramelizes (about 3 minutes).
Plate carrots and sprinkle with chives. Season with pepper and salt to taste.
COFFEE INFUSED BBQ SAUCE
What You Will Need:
-1 1/2 cups Dave's Natural Coffee Syrup
-1 1/2 cups chopped yellow onion (1 large onion)
-1 tablespoon minced garlic clove (3 cloves)
-1/2 cup vegetable oil
-1 cup tomato paste (10 ounces)
-1 cup cider vinegar
-1/2 cup honey
-1/2 cup Worcestershire sauce
-1 cup Dijon mustard
-1/2 cup soy sauce
-1 cup hoisin sauce
-3 tablespoons chili powder
-two tablespoons ground cumin
-1/2 tablespoon crushed red pepper flakes
Directions: Inside a large saucepan on low heat, saute the onions and garlic clove using the vegetable oil for ten to fifteen minutes, before the onions are translucent although not browned. Add all of those other ingredients. Simmer uncovered on low heat for half an hour. Use immediately or store within the fridge.
DAVE'S ROASTED PEARS
What You Will Need:
-1/4 cup Dave's Vanilla Coffee Syrup
-3 tablespoons unsalted butter
-2 large firm-ripe pears (1 pound), halved, cored
Directions: Preheat oven to 400° F. Inside a large ovenproof skillet, melt butter over medium-high temperature until golden brown and aromatic. Add pears, cut-side lower, and prepare three to five minutes or until gently browned below. Drizzle with Dave's Vanilla Coffee Syrup. Transfer skillet to oven. Bake ten to fifteen minutes, or until pears are simply tender. Awesome pears in pan to 70 degrees. Serve roasted pears with increased Dave's Vanilla Coffee Syrup and frozen treats.
COFFEE JERK CHICKEN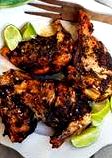 What you will need:
-two tablespoons ground thyme
-1 tablespoon ground rosemary oil
-1 tablespoon ground allspice
-1 tablespoon ground ginger root
-1 1/two tablespoons ocean salt
-1 1/2 teaspoons onion powder
-1 1/2 teaspoons pepper
-1 1/2 teaspoons ground cinnamon
-3/4 teaspoon ground nutmeg
-3/4 teaspoon garlic clove powder
-3/4 teaspoon paprika
-2 teaspoons ground scotch bonnet peppers (habanero)
-12 bay leaves (finely crumbled)
-3 lbs chicken (pieces, wings, halves, whatever)
-1 lime, juice of
-1/4 cup essential olive oil
-1/2 cup Dave's Original Coffee Syrup
Directions: Combine all ingredients except chicken, lime juice and oil in mixing bowl and whisk to combine well. Whisk together lime juice and essential olive oil. Rub chicken well with lime/oil mix. Rub chicken with dry seasoning/spice mixture. Refrigerate 1-3 hrs, then remove from refrigerator and permit arrive at near 70 degrees. Prepare grill. Grill chicken until almost fully cooked. Once seared along with a little charred brush with Dave's Coffee Syrup. Still grill for 1-2 minutes until syrup is caramelized.
MOCHA CUPCAKES
Cupcakes:
-1 ¾ cups all-purpose flour
-1 ¼ cups white-colored sugar
-¾ cup unsweetened cacao powder
-2 teaspoons sodium bicarbonate
-1 teaspoon baking powder
-1 teaspoon salt
-2 eggs
-1 cup DAVE'S coffee syrup
-one and a half cup buttermilk
-½ cup vegetable oil
-1 teaspoon vanilla flavoring
Directions:
Preheat oven to 350 levels F. Prepare cupcake tins. In large bowl combine dry ingredients. Combine eggs, Dave's Coffee Syrup, buttermilk, oil and vanilla. Beat for just two minutes on medium speed. Batter is going to be thin. Pour into prepared pans. Bake at 350 levels F for thirty to forty minutes, or until toothpick arrives clean. Awesome fully before removing from pan. Poke holes having a fork or skewer and soak surface of cupcake with Dave's Coffee Syrup while still warm.
Frosting:
-1 cup unsalted butter (70 degrees)
-3 cups confectioners (powdered) sugar, sifted
-1/4 teaspoon table salt
-5 tablespoons Dave's Coffee Syrup
Directions:
Whip (gradually initially) butter and powdered sugar before the sugar continues to be incorporated. Increase to medium speed and add Dave's Coffee Syrup, mixing for several minutes. In case your frosting requires a more stiff consistency, add powdered sugar. Frosting will require on more coffee syrup if more serious flavor is preferred.
Resourse: https://davescoffee.com/pages/
Homemade Pancake Syrup Recipe (Butter-Maple)
Video COMMENTS:
Sarah Membrey: Thumbs up if you think divas should start a cooking show!
Joseph Taylor: me…
wangson: Yeah. I'd take a look.
JVN: Girl your grandma made EVERYTHING from chicken to "medicine" to syrup was everything she had homemade ? haha she was busy
Liv: Divas Can Cook that's so adorable!!
Sarah Membrey: Divas Can Cook it's great though, that shows that everything she does is from the heart and to show she cares. I really want to be a chef when I grow up cooking is such a passion I'm really interesting in homemade spreads and serving suggestion sort of stuff like this so please do a little more of that
Major Arcade Player: finally I could make my own pancake syrup instead of driving to the store buying syrup. Thank you for this video Divas
Maxine's Corner: Major Arcade Player yes I am loving this for sure.
Pragya: Howard North po
D.A. Ragland: When Jesus waaaaaaaaaaaaasssssssshhhhhhhheeeeedddd…he washed my sins awaaaayyyy! And then we ate them fluffy pancakes with this surup! This ain't syrup it's suuurrrup!!!!!